ATTENTION ALL DODGE HELLCAT OWNERS!!!

IT'S HERE, IT'S HERE!!!!!!! FINALLY!!!!!
LMI HC INTAKE

http://www.legmakeri....mi-hellcat.htm


-Independently tested 18-22 rwhp increase over stock airbox/filter (Tests conducted by DiabloSport, LLC)


-No tuning is required, but tests showed additional gains with tuning. As a result.....DIABLOSPORT WILL BE ADDING A SPECIFIC TUNE TO THEIR TUNING TOOLS FOR THE LMI HC INTAKE. WILL BE IN FUTURE NEW TOOLS AND/OR UPDATES


-Handmade from 100% real carbon fiber construction for superior heat characteristics


-Proprietary fabrication process resulting in a smooth inner surface to ensure optimal air flow


-"Funnel" shape with 6" opening smoothly transitioning to 4.5" to help speed airflow and decrease restriction


-Massive 6" diameter S&B filter with 8 layer protection (oil type)


-High quality silicon coupler ensuring smooth transition to throttle body


-High quality stainless T-bolt clamps provided


-Drilled for IAT/Oil breather fitting with a military grade rubber grommet for secure fit and seal


-Billet aluminum MAF flange for proper sensor performance and fit


-Laser cut rain shield with superior wrinkle finish powder coat and machined Legmaker logo


-AFE water repellent pre-filter to ensure maximum protection of filter from moisture and debris


-All necessary hardware and instructions for DIY install


-ZERO cutting or modifications needed to install


-No additional harnesses or other items to "trick" the computer from check engine lights.

*** PROUDLY MADE IN THE USA!!!!!!!!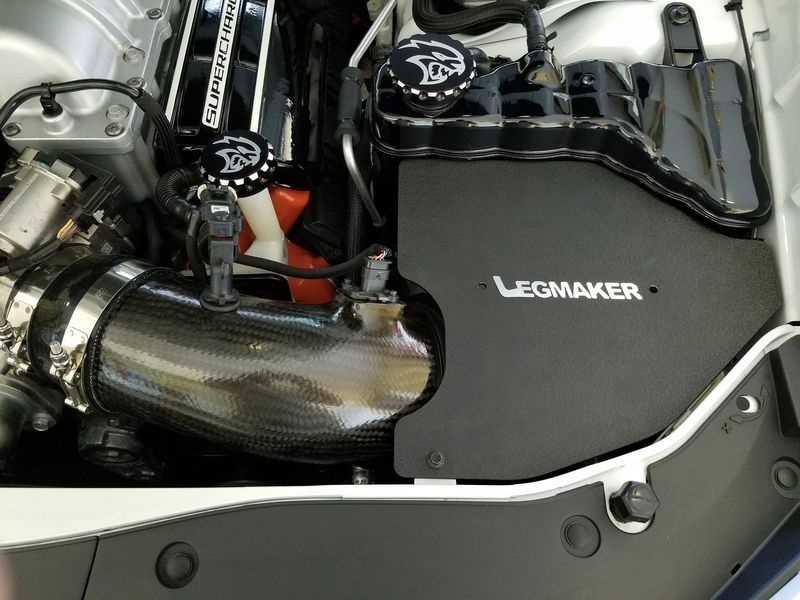 without Rain Shield